1. After the Race
The sun was going down. The Canadian springtime evening was getting cold. We changed out of our sweaty race clothes, walked towards Rideau Street and watched the sun set behind the hills across the river in the west.
Then we wandered to Byward Market for something to eat, settling finally on The Highlander Pub. Best fish-and-chips I've ever had.
We sat on the patio. We were in no hurry. We sat and watched the world go by as we waited for our food. And when our batteries were finally recharged, we paid our bill and walked down George Street toward the bus stop on Dalhousie.
2. Rolling My Ankle
It was quiet there compared to the patio outside the pub. And it was dark. We stepped between two parked cars to cross the cobblestone street.
And here is where it happened.
I stepped off the curb, a step that was only an inch or two down, and I rolled my left ankle. My leg folded out from under me. Hands in pockets, unable to catch my balance, I fell into the street. Hard, elbow slamming directly into the cobblestones.
What I remember is this: a brief instant of confusion, the impact of my elbow, the clang of my race medal bouncing off the street, and my head bouncing twice off the ground. Thankfully by the time my head hit the ground, my elbow has broken my fall, so I was fine. But I had turned my ankle hard, and my elbow hurt. 
3. On Not Standing Up
"Are you ok!?" Trudy asked, relieved when she realized that the street was barricaded and so there was no rush to pull me out of oncoming traffic.
"Yes," I said, struggling to sit up. Then the world went fuzzy.
The blood raced out of my head down to my ankle. You might know this feeling: stars at the periphery of your vision, tunnel vision, ringing in your ears, the smell of losing consciousness.
I knew that the last thing I needed to do was to stand up.
I scooted myself inch by inch back onto the curb up against a tree. Or was it a parking meter? Anyway, I sat there for a minute. Several minutes. No, many minutes. No, enough minutes that we didn't catch the bus and ended up having to wait 30 minutes for the next one to come.
4. Evidence to the Contrary
Why am I telling this story?
About a week ago I sent a friend a note telling her about rolling my ankle. She's a runner (a serious one), and I thought it would be a good runner's commiseration. And since the Trudy features prominently in the story (having been prepared, after all, to pull her fallen husband out of the street), I CC'd her, too.
In this message, I said, and I quote, "Even though Trudy was the only one who had a beer, I fell into the street…"
The next day, Trudy walked into the study in the evening and looked at me.
"Do you really not remember having a beer that night?"
I stared blankly back at her. I searched the vaults of my impeccable memory. I drew a blank.
"No," I said, "I don't."
"You had a beer," she said. At which point the dimmest of memories returned, a memory of tasting her beer and ordering one myself. And although I honestly don't remember any more than that, I suspect that if those fish-and-chips were so incredibly good, I must have really enjoyed that beer, too.
The day after that, I got an email from the fair and industrious Trudy. There was a photo attached. I submit that photo here as documented evidence. There you'll see my 10K race medal. And there you'll see me gripping the silverware in anticipation of those fish-and-chips. And there you'll see the reflectors on my running jacket shining in the flash from Trudy's camera. And finally, yes, there you'll see an almost empty glass of beer sitting undeniably close to my right hand.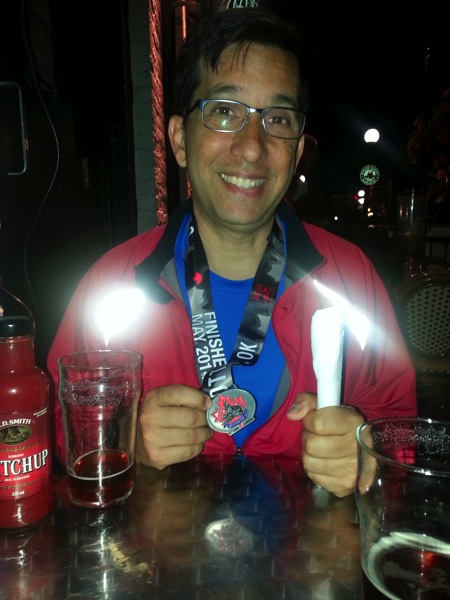 So there is no question. I did drink a beer. 
Now of course, that beer had nothing to do with rolling my ankle on George street, but at this point I think my credibility is shot, so I'll just sit down.